Official Dialogue Feedback to the United Nations 2021 Food Systems Summit
Last updated:
Download PDF
Type of Dialogue
Independent
Convened by
CIFOR, EntreVA, Hivos, KRKP, Mantasa, WRI Indonesia, WWF Indonesia and Yayasan Kehati
Language of Dialogue Event
Bahasa Indonesia
Geographical focus
Indonesia
Format
Online
Please review the details below for registration information if available or contact the Convenor if you would like to attend.
Description
The independent dialogue aims to compile stories and lessons learned from practices in the field, both successful and less successful practices, as well as to discuss potential solutions which are suitable with Indonesia condition to realize a sustainable, healthy, fair and resilient food systems. This dialogue will involve food actors and stakeholders, especially at the grassroots level, including youth, women, and indigenous communities to share their experiences. In terms of process, the dialogue will divide the Indonesian archipelago into food system regions, grouping the participants into areas with similar food systems (e.g., big cities, Java and Bali, Sumatra, Kalimantan, and Sulawesi, Papua and Maluku, and Nusa Tenggara). The experiences and stories of best and perhaps worst practices will be compiled and discussed as to: what are the prerequisites or conditions for success of food system activities in Indonesia and what are the recipe for failure. Some of the stories will also be written as short stories and compiled in a book. A policy brief will be written as an output of the dialogue. This dialogue is also intended to further complement the results of the member state dialogues that have been organized by the National Convenor in April and August 2021
Acknowledgement
The Ministry of National Development Planning, the SWITCH Asia program of the European Union, Food and Land Use Coalition (FOLU).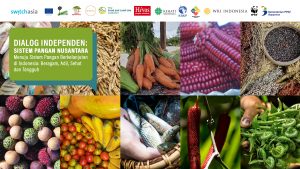 Image credit: Icaro Cooke Vieira, Sopian Hadiwijaya, Research & Development Agency of West Papua, Kehati, Tezza Napitupulu, Aulia Erlangga, Manuel Boissiere, Mohamad Susanto